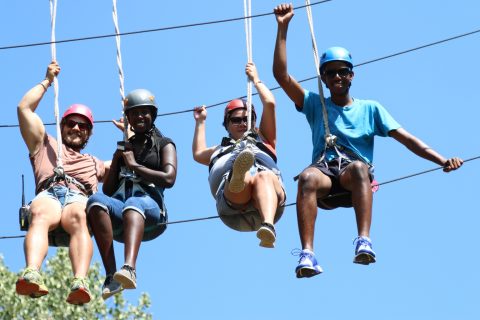 The Camp For The Visually Impaired, formerly called Blind Camp, has been happening at Foothills Camp for many years, and has been attended by many from across Manitoba, Saskatchewan and Alberta. We strive to create a fun place to experience new and exciting experiences. Campers spend their days swimming, water skiing, horseback riding, enjoying hayrides, singing and so much more! We're all about creating memories that last a lifetime. Anyone with a visual impairment is welcomed to register and share in this summer camping experience.
We are happy to answer any questions you might have about the Camp For The Visually Impaired. You can Contact Us with your questions.
DONATIONS
You have an opportunity to put a smile on the face of someone today. You can do so by making a tax-deductible donation to help someone with a visual impairment be a part of this great camping experience. Your donation will go a long way and makes it possible to:
Provide ride to campers coming from Manitoba, Saskatchewan and around Alberta
Provide a terrific group of 40 camp staff that continually show love and care to each camper
Provide an amazing week at camp, which always turns out to be the highlight of each camper's year
Here are some facts:
Our campers range from the age of 6 years old and up
Foothills Camp is a non-profit organization
The cost of camp for each camper for one week is $650
All donations are tax-deductible
Our staff are specially trained for this week and are ready to be of service, and to assist in the fun memories making process. Please support this unique camping experiences of the visually impaired as we strive to create memories that last a lifetime.
CLICK HERE to make a donation online to the Camp for the Visually Impaired.